With the popularity of football, countries around the world have also increased the construction of football fields. Recently, many customers have sent inquiries to ask me about the football field.
Because the area of football fields is not small, most schools, clubs, gymnasiums, and national training teams will be built. For families interested in football, is there any other way to train football?
My answer is:Teqball table.
Teqball is a ball sport that is played on a curved table, combining elements of football and table tennis.Back and forth, the players hit a football with any part of the body except arms and hands. Teqball can be played between two players as a singles game, or between four players as a doubles game.
If these two pictures of ours make you mistakenly think that the teqball table is made of cement, then you are wrong.Most of the styles currently available are coated wood panels that can not only be moved but also folded.For a foldable table, it is also possible to play alone.so if you just want to training football , this kind of table is a good way.

Now our company has also launched some teqball tables, and the equipment is used by football teams in Qatar and Barcelona national football team.So it is not difficult for football training to enter every household in the near future.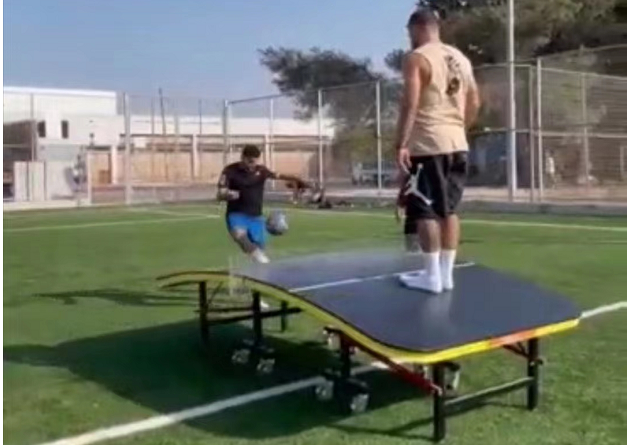 This is our LDK4004 model, a hot-selling model, with a small size, 2740*1525*760MM, but don't look at it's small size, there is no problem with the strong man standing on it (the pictures are experienced and taken by our customers). Equipped with 8 universal wheels, it can be locked and not moved even when the two panels are completely separated.
If you google it, 95% of the pictures are from the same website, it's teqball.com, they have their own brand of clothing and equipment, and they often hold games.
What are our advantages over them?
1. Price: The ex-factory price of our table is less than 500 US dollars. If you have a large quantity, the discount will be bigger. Invited neighbors to buy together, double the happiness!
2. One-stop service: We are a sports equipment company. If you are not an individual buyer and need to purchase cages or equipment for the entire venue, we will help you make them all and deliver it.
The 22nd FIFA World Cup will be held in Qatar on 21 November .
I hope to see the outstanding achievements of athletes in the game, and hope that more people will join football, not only for the game, but also for health and fun!
---
Post time: Jul-22-2022